1931:
The creation of the first made-in-Japan time recorder
Shuichi Amano, founder of Amano Corporation, came across a time recorder for the first time when he was in the Navy. At that time, time recorders were all imported from abroad and they were very unreliable. Driven by the conviction that "trouble-free reliable time recorders will be beneficial for the future", he established Amano Manufacturing in 1931 in Kamata, Tokyo. He began by creating a prototype time recorder but the development was extremely difficult. After much trial and error, he finally created the first made-in-Japan time recorder.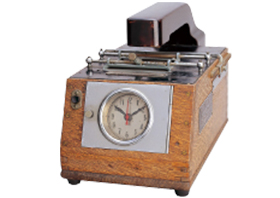 1950:
Amano delivers Amano Time Recorder to Japan National Railways
The Labor Standards Law that came into force in April 1947 after the war generated a favorable market environment for time recorders, and led to Amano's successful delivery of 43 time recorders to Japan National Railways in May 1950. Owing to the undaunted efforts by all employess, the 43 time recorders were manufactured within a very short timeframe and achieved impeccable results in the product inspection. This successful delivery to Japan National Railways led to a series of new large orders for its time recorders, enabling Amano to gain a foothold toward taking a major leap forward.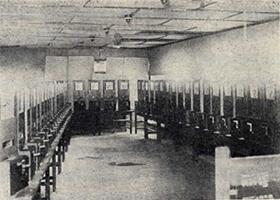 1951:
Start of environmental product development; Amano launches industrial cleaners
In order to advance into new fields in addition to time recorders, Amano entered into agency agreements with two leading US companies in May 1951 and started to handle products such as industrial cleaners as their general agent in Japan. Then, Amano developed original machines tailored for the Japanese market and completed the development of "Liqless" (a drain separator) in May 1952. The first model was delivered to Nippon Kokan K.K. Tsurumi Dockyard. Concerns about preventing pollution increased as Japanese industries grew, and in this environment these cleaners developed into today's dust collectors.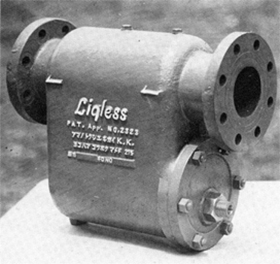 1955:
Amano starts export of time management products
Amano began to export its products in early 1955, and by 1959 exports were well under way, mainly to South-East Asia, having established agencies in Taiwan, Hong Kong, and Okinawa. Unlike most manufacturers that exported indirectly via trading companies, Amano chose to use a direct trading system. The reasons why Amano chose this system were that product knowledge was essential for market development, special technological knowledge was required for selling products, and above all, after-sales services were imperative.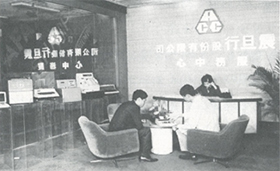 1958:
Development of the type NR time recorder
In February 1958, Amano developed the "Amano Time Recorder Type NR", a fully-automated new time recorder. It took 5 years for Amano to develop the Type NR time recorder, which, unlike the traditional spring-operated recorders, used electricity as its power source and automated all the operations to record time on cards. It was a compact time recorder that could be used even during power outages. In addition, its compactness allowed Amano to use cardboard packaging for the first time, which helped to reduce transportation costs.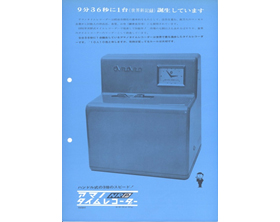 1964:
Amano established its first overseas subsidiary in New York
In August 1964, Amano established Amano Time Systems, Inc., its first overseas subsidiary, at 307 Fifth Avenue in New York. In terms of the sales method in the US at that time, it was impossible to sell time recorders without also providing services. Based on the conviction that its time recorders would be popular items, Amano entered into the US market under the catchphrase, "Use time recorders when you have 10 or more employees," which enabled Amano to subsequently secure a strong foothold in the US market.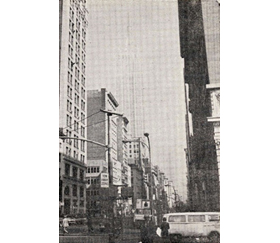 1966:
The company renamed to "Amano Corporation"
In June, 1966, Amano changed its name to Amano Corporation. That year marked the 35th anniversary of Amano Manufacturing since its inauguration, and it changed its name in hopes of making a great leap forward into the world by modernizing its factories and sales system. At that time, Amano was already known for its popular line-up of time recorders, and the new name made the company more recognizable and approachable. In December of the same year, Amano's capital increased to 1 billion yen and on August 1 of the following year, it was listed on the First Section of the Tokyo Stock Exchange.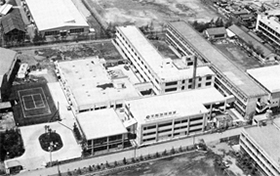 1967:
Building of Hosoe Factory
In 1967, responding to the increased demand for dust collectors, Amano constructed its new factory in Hosoe Town, which is approximately 20 km north of Hamamatsu City. Hosoe is located at the center of the Japanese Islands and had the advantage that products could be transported to either Hokkaido (the northernmost of the main Japanese islands) or Kyushu (the southernmost of the main Japanese islands) in only 2 days. In addition, Hamamatsu has three well developed industries—automobile, music instruments, and textiles—and it had many businesses involved in pressing and die casting, allowing Amano to easily procure parts. Moreover, the Textile Research Institute of Shizuoka Prefecture was of great help in conducting performance tests of the bug filters used in dust collectors and other research and development activities.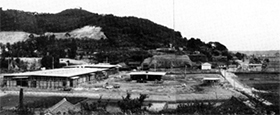 1968:
Beginning of information systems business
Amano delivers the first Areco Data System unit
Amano delivered its first "ARECODATA SYSTEM" unit to Isetan Co., Ltd. in 1968. The system was developed based on market research on potential problems in attendance management and their solutions. For this research, Amano visited roughly 2,000 companies over a period of around 2 years under the concept of "improving the efficiency of payroll accounting by connecting time recorders and computers." The system was first installed on a trial basis, and once fully operational it contributed to labor-saving and increased the efficiency of payroll accounting operations. The delivery of this system marked the start of the growth of the current information systems business.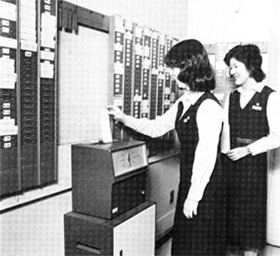 1973:
Foundation of the development of parking systems business
Amano delivers the first fully-automated fare payment system
(At the time known as Amano unmanned self-parking system)
In October 1973, Amano delivered Japan's first unmanned self-parking system to Toride station west-side parking facility in Ibaraki prefecture. At that time, users of the parking facility requested early morning and late-night services, but a 24-hour system from a security company would have been extremely expensive, so Amano received an inquiry about its unmanned self-parking management system. The company's development of a self-parking system synchronized with the parking facility owner's ongoing trial and error process for more efficient management, and this process of growing together marked the beginning of the expansion of the current parking systems.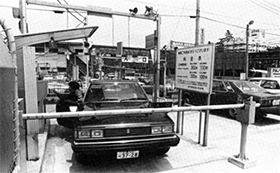 1979:
Completion of the first overseas manufacturing factory in the US
After establishing a sales subsidiary in New York in August 1964, Amano opened its Los Angeles branch in 1972 and its Toronto branch in Canada the following year, and expanded its dealer network to cover about 200 dealers accross North America. Then, in 1979, in order to locally manufacture time stamps and other time management related products, along with parking equipment, Amano completed the construction of its first manufacturing factory in Anaheim near Los Angeles, California.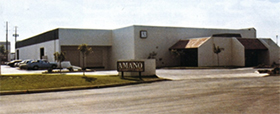 1980:
Hot seller
Amano releases its "Intelligent Time Recorder"
(At the time known as "Interedorder", "Intereco" or "IR")
In March 1980, Amano released the "Interecorder" which was a new concept time recorder utilizing an onboard microcomputer. This time recorder was an innovative product that enabled attendance data to be aggregated, and it received a great deal of interest as soon as it was released. Amano had many inquiries even from companies that had never used a time recorder before, and its popularity served as the driving force behind the business expansion.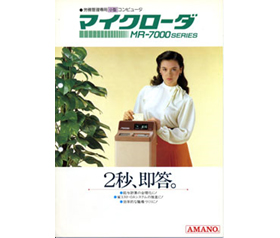 1987:
Construction of Tsukui Factory (currently Sagamihara Factory)
In April 1987, construction was completed of "Tsukui Factory," near Lake Tsukui in Kanagawa prefecture for the manufacture of modern electronic time recorders. Tsukui Factory was an integrated electronic time recorder factory for tasks ranging from the manufacturing of printed-circuit boards (PCBs) and flexible substrates, the processing of resin molding parts, and parts assembly, through to product assembly and inspection. Manufacturing PCBs was a new challenge for Amano, and 80% of the equipment installed in this factory had not previously been handled by any Amano factories.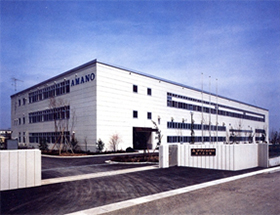 1988:
Amano commemences local production in Europe
Completion of Amano Electronics Europe, N.V. (AEE)
In May 1989, Amano established Amano Electronics Europe, N.V., as its first European manufacturing factory in Genk, Limbourg Province, which is about 100 km away from Brussels in Belgium, where it's sales subsidiary Amano Europe, N.V., was established in 1972. This European factory was constructed in accordance with Amano's strategy of establishing a three-pronged R&D and production structure in Japan, the US, and Europe, in an attempt to build a system based on the European market, where needs for products tailored for local specifications were increasing.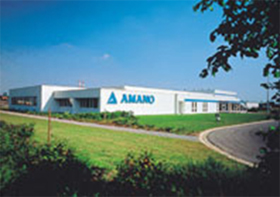 1990:
Expansion of cleaning business
Amano acquires Pioneer Eclipse Corporation
In January 1990, Amano acquired Pioneer Eclipse Corporation, a leading manufacturer of industrial high-speed floor polishing systems that was involved in the manufacture and sale of high performance buffing machines and chemicals, including removers, cleaners, and waxes, based on its unique technologies. This acquisition enabled Amano to grow to become a company that could produce and sell both cleaning equipment and chemicals, and successfully expanded the market with its core product, automated floor scrubbing machines.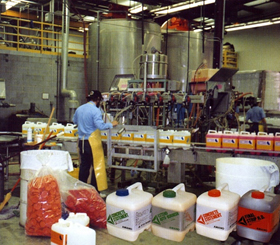 1993-1998:
Asian market development
Amano establishes local subsidiaries
In the 1980s, the wave of motorization swept across Asian countries, which initiated dramatic developments in the market. In response, Amano established Amano Cleantech Malaysia Sdn. Bhd. (A.C.M.) in Malaysia in 1993, a branch office in Seoul City, South Korea (currently Amano Korea Corporation) the following year, Amano International Trading (Shanghai) Co., Ltd. and Amano Time and Air Singapore Pte., Ltd. in 1995, and PT Amano Indonesia (PTAI) in Indonesia in 1998. Each of these companies had its unique areas of specialty, and they expanded in the Asian market through community-based sales activities.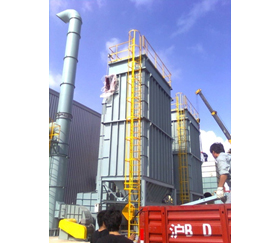 2007:
Expansion of parking systems business in North America
Amano acquires Terry McGann & Associates, Inc.
In June 2007, in order to expand its parking business in North America, Amano acquired Terry McGann & Associates, Inc., a parking system agency with a network covering the entire United States. The synergies between this company, which has a broad customer base of airports, hotels, hospitals, universities, and others across the United States and strength in the development and sale of parking management and operation software, and Amano's parking system, led to its further expansion in the North American market.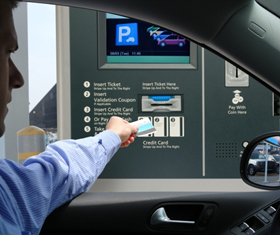 2008:
Expansion of information systems business in Europe
Amano acquires Horosmart S.A.
In January 2008, Amano acquired Horosmart Group, which had delivered its workforce management systems to more than half of the then-top 40 listed companies in France. Horosmart S.A. had established a solid position in France and was strong in software for medium- to large-scale companies. Amano's acquisition of its software and excellent customer base in France led to its further expansion in the European market.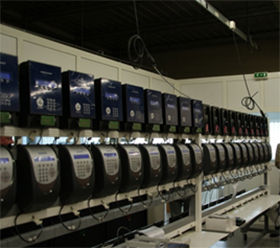 2010:
Expansion of information systems business in North America
Amano acquires Accu-Time Systems, Inc
In February 2010, Amano acquired Accu-Time Systems, Inc., a leading US company for the manufacture and sale of time information related terminal equipment. The company was already operating globally with a view toward overseas markets, in addition to the US market, and its collaborations with Amano's other local subsidiaries generated synergies.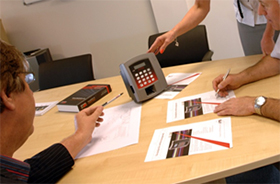 2014:
Expansion of clean system business in North America
Amano acquires wooden floor sanding equipment business
In March 2014, Amano acquired the wooden floor sanding equipment division from Nilfisk-Advance, Inc. based in Minnesota (US). There are many homes with wooden floors in the United States, and wooden floor sanding equipment is used for both new home construction and housing renovation, creating a huge market. This acquisition enabled Amano to enter the wooden floor market in addition to its already established presence in the vinyl and concrete floor markets, and led to the further expansion of its business in North America.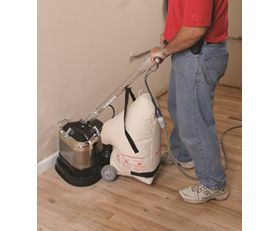 Today, with an aim of becoming a 100-year company,
We strive to create new value as a global solutions provider through creating new businesses and expanding business scale.